Watch Repair Near Me Locator
Watch Repair Near Me – Get Your Watch Fixed
If you are looking for a watch repair , then it's important to consider where you do business. For newer watches and basic repairs its most likely that your local jeweler can handle these types of issues. They can order factory made parts and use there tools to bring your time piece back to working order. There are things you need to know before you have a local shop work on your watch. I will share with my experience from the watch repair near me.
We will cover all the details in this article from finding local watch repair shops to sending your watch to an authorized service center to where to get an antique watch fixed.
Where to Find Watch Repair Near Me
Use the map below to identify the best location for your watch repair.
Above is a listing of results in your area of "watch repair near me". You can also try searching for specific brands, for example,  "Rolex repair near me" or "Seiko watch repair near me". This often produces a list of results of local businesses who are available within your proximity who can perform the maintenance. Before you visit one of these local repair shops near you its best to call ahead to ensure they can repair your brand of watch and model number.
If a Local Store Can't Fix it, What are Your Options?
If a local shop near you isn't an option or your problem is beyond their skill set, the alternative is an authorized service center. These are hubs certified by specific manufacturers that the company has deemed allowed to repair their products. Similar to taking a Mercedes to Mercedes dealership for an oil change as opposed to visiting a Jiffy Lube. You can find a list of service centers by brand here.
Service centers are great, except they are very impersonal and you will most likely not speak to a person at all in the process. You mail your watch in and they give you an estimate. More on the difference between a local repair shop and a service center below…
Watch Repair Store vs Sending Back to a Service Center
The great part about localized timepiece repair shops is that you can get personal attention. You get to speak with a service repair person and talk price and issues with the watch. However, jewelry stores and local repair shops are not authorized service centers. The may in fact be able to fix your timepiece for you, but they will most likely not guarantee the work and cannot provide free service if your repair is covered under the manufacturer's warranty. In fact having an unauthorized person (including yourself) perform repairs on the watch, it voids the warranty.
On the other hand, if your watch is still under warranty often the best solution is to send it to an authorized service center for your manufacturer. They will be able to certify the repairs and guarantee them for a specific amount of time after they are finished. In addition if your watch is covered under the manufacturer's warranty they will fix your watch free of charge. In order to prove warranty rights most places require an original receipt with proof of purchase date, watch model number, and purchase price. High end watches like a Rolex or a Breitling have a warranty card that comes with the watch which will serve as your proof of purchase.
Different brands have different warranty lengths and parts covered so whether or not your specific watch is covered will require further research. If you know your watch isn't covered under warranty or you don't have the documentation to prove it, it makes more sense to visit a jewelry repair or repair-store near you.
Normally a service center doesn't take phone calls so everything is very impersonal and done through the mail. While they do fantastic work, most people don't like the process of trusting their prized timepiece in the mail without talking to a human first. Plus you have to describe the problem in detail on paper which people have hard time doing. If you are in this category it is helpful to be familiar with the parts of a watch so you can write a better description. There are a few brands like Cartier, that don't use service centers instead they use their boutiques as the service center.
Below are the basic parts of a watch in case you can't find a suitable place near you and have to mail your watch in. Use the proper names to describe the problems you having with your timepiece.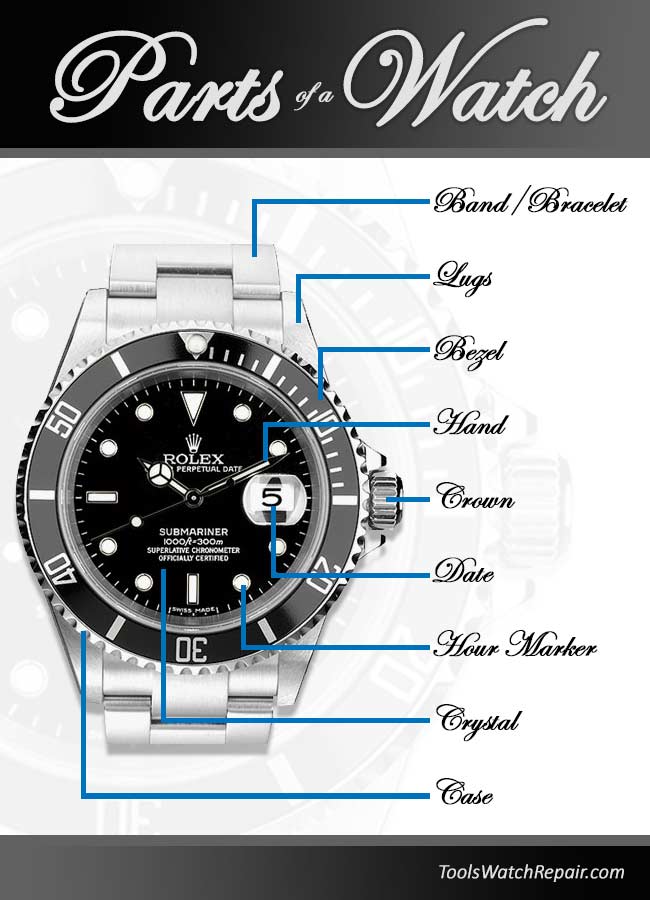 If you are looking for a service center fir a particular manufacturer you can visit our service center links page, where we have included links to all the major brands service center locators.
What Kind of Problems Can a Watch Repair Shop Near Me Fix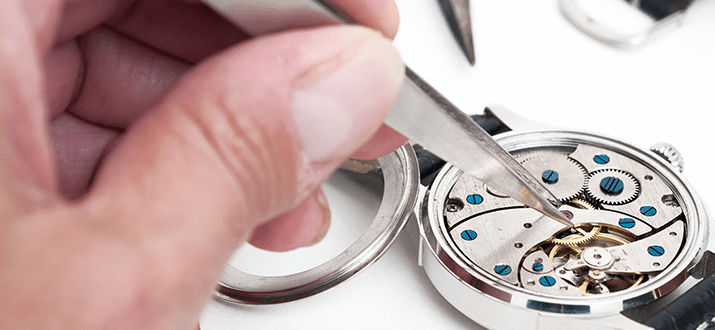 These shops can certainly fix a variety of issues and I have seen them turn a few miracles on old fashioned time pieces that were deemed hopeless. For the most part though here is what you can expect:
Battery Replacement: This usually only takes a few minutes and most repair places use only the highest quality batteries. Find watch battery replacement shops near me.
Stem and Crown Repair: These are the knobs that stick out that allow you to adjust the time. If they break or get bent it prevents you from adjusting time, date, and other features.
Band: Offer replacement bands in leather, metal, and synthetics.
Cleaning and Inspection: A thorough review of your time piece and an expert cleaning to keep your watch running for as long as possible.
Crystal Repair and Replacement: The crystal is the watch face. You can normally get a crack fixed or replaced if needed.
Some repair-shops and jewelers offer additional services such as restoration, gasket replacement, and even water resistance tests. The above I have outlined is how the watch repair near me operates.
Most services listed above can be done, while you wait, of course it's truly dependent on how much work your watch may require. It may also depend if the shop has all of the parts and pieces they need for your watch in stock.
How About Antique Watches?

For antique watches, it's possible your local jeweler or local watch repair shop can handle it if it's easy, but more than likely you will need an expert called a horologist. These experts are master craftsmen that have finer tools and advanced knowledge of hundreds of antique brands as well as the history of their internal mechanics.
Parts for your watch most likely no longer exist and the horologist will have to fabricate the parts themselves. If you need to find an expert then asking your local jeweler or watch shop is often a good place to start because they may already out source to one.
Sometimes antique watches just need a little TLC and oil, but more often then not getting one fixed can be pricey. To find the best restoration services in your area you can search for terms such as: antique watch repair near me, antique watch restoration, or vintage watch repair near me.
Common Issues for Popular Brands
Seiko, Timex, Citizen, & Fossil
Popular low to mid-priced brands like Seiko, Timex, Citizen, and Fossil normally don't come with high end repair costs as these are common watches with easy to find parts. Most repair shops can get you in and out with these brands of watches.
Common issues are batteries at the end of life, cracked crystals, broken glass on the face, and replacement watch bands. If your watch is under warranty and you have the original receipt you may want to consider sending it to a service center instead or a local watch repair near you.
Rolex, Tag Heuer, Breitling, Cartier, Omega, Movado
The high end watches like Rolex, Tag Heuer, Breitling, Cartier, Omega, and Movado generally can suffer from the same issues as the low to mid priced watches, except these watches also should get special attention. These timepieces should be serviced according to your warranty and recommended service schedule by the manufacturer. Often it is just in need of a tune up every 2 years and then a complete movement overhaul about every 5 years.
Apple Watches Can be Taken to a Cell Phone Store or Apple Store
If you have a problem with an apple watch it may be best to go to a cell phone repair shop near you or your local Apple store. These products are more cell phone than watch and your local shop won't have the tools to work on these or even open it up.
Can a Watch that Glows in the Dark Be Made to Glow Again?
The material that makes a watch glow is called luminous and it usually fades after 15 to 20 years.  Its actually pretty easy for a repair shop to do. If you are doing it to a vintage watch though be aware that it will affect the resale value negatively. Most vintage watch buyers would prefer an original even if the luminous no longer glows.
Can Scratched Glass on The Watch Face Be Fixed?
If it's acrylic or plastic, yes. If it's sapphire you can't remove the scratch, you have to replace the whole thing. Sapphire is really hard to scratch though. Also worth noting sapphire is much more expensive.
Watch Repair Near Me – How to Choose
My best advice would be to start local and go from there. If you are in a major city or populated area then you should find a nice variety of jewelers, watchmakers, and repair shops in your area. For those in less populated areas your local jeweler is a good place to inquire. Even if they can't fix your watch themselves, there is a good chance they outsource or can provide you with a list of contacts that you can try.
To find Watch Repair Near me, you can try Yelp or Google maps. You can type in Watch Repair or Watch Repair Near Me to get a list of results within your proximity. Alternatively you can search for Jewelry Repair Stores Near Me.
To choose the best place near you its best to call around. You want to find a place that is certified and has experience in fixing your brand of watch. If you the place often services high end luxury watches they may be able to provide you photos or their previous repair work. Also you may want to visit their website and read customer testimonials.
Can My Local Jeweler Near Me Fix Watches
If it is quartz watch then most likely yes. First they will check the battery, then check to see if components are defective, and last see if any cables or circuits have come loose. Some jewelers have a diagnostic machine that can tell you exactly what's wrong with an electronic watch. If it's the quartz, then they will just replace it. It's much cheaper to replace a quartz watch than anything else.
For a mechanical watch things get dicey. Some old antique watches just need a little TLC like oil and cleaning, but when it comes to mechanical issues its much harder. This is because your local jeweler can't order parts. In addition they are not master craftsmen who can fabricate the parts you need. An expert watch builder will make you the parts from scratch.
How Much Does it Cost to Fix a Watch
This will vary depending on your issue, brand, parts availability, etc. A digital quartz watch is most likely cheaper to repair than an old fashioned watch. Most places that can repair your watch should be able to give you a quote before performing any work.
No repair on a truly high end watch is going to cost you less than a $1000. Often the more expensive the watch the more expensive the repair.
A few examples: For low to medium end watches battery replacement is only about $8 to $10 higher end watches could go as much as $50. Band replacement can be as low as $20 for a simple leather band, but a platinum band could run you $500.  Crystal replacement can be between $30 and $50 for acrylic and $80 to $15 for sapphire.
Will I Be Charged if it Can't Be Fixed
Most repair stores will not attempt to fix your watch unless they know they can fix it. Otherwise they will be up front with you. If you are still willing to pay them for there time regardless of the result then it's worth asking if they can take the watch apart and look at it anyway.
If you send your watch to an authorized service center they will even contact you via mail or email with an estimate. You can then chose to proceed with all or some of the repairs or opt to have your watch returned to you.
Most Common Issues With Wrist Watches
Watches are pretty delicate items and people tend to be rough on them, like playing racquetball with your $10,000 Rolex on. Activities like this usually lead to drops of the watch or worse getting stepped on. Other things people do with high end watches on are mechanical work on cars or washing dishes and running a non-water resistant watch under a faucet.
Watches while small, are complicated little instruments containing as many as 300 to 500 moving parts. If your watch bangs into something it is going to set the tiny pieces inside ajar.
Basic Timepiece Care and Maintenance
If you want to keep your time piece looking sharp you have to take care of it. Here are a few things to do if you want your watch to stay shiney:
Take off your watch when you apply lotion
Take it off when you sleep
Wipe it down once per week with a soft towel
If its water resistant use an old tooth brush and warm water
For more detailed advice on keeping your time piece looking fresh, there is a great resource here on how to clean your watch.
Can I Get Tools to Repair a Watch Myself
If you have decided your pursuit of watch repair near me is not for and you want to DIY your repair…have at it. You can get tools on Amazon, but my best advice would be to let the professionals do their jobs. Of course for some watches battery replacement is fairly straight forward, but when you open it you risk damaging it. In addition you risk getting dust and dirt in it which can greatly affect the mechanics. Other than wiping it down, you should consult a pro; they know what they are doing and they work in extremely clean and tidy environments.
If you try to DIY a fix you can end up costing yourself more money. Once an authorized service center sees a botched job they no longer need to respect any warranties and can charge you full price.
If you have a water resistant watch that is not a job you should do on your own. When you open up the back of the watch you break the factory seal. A pro watch technician will be able to reseal your watch correctly after the work is performed and then give it a proper water resistance test to check it.
Where to Find Watch Repair Tools, Replacement Parts and Bands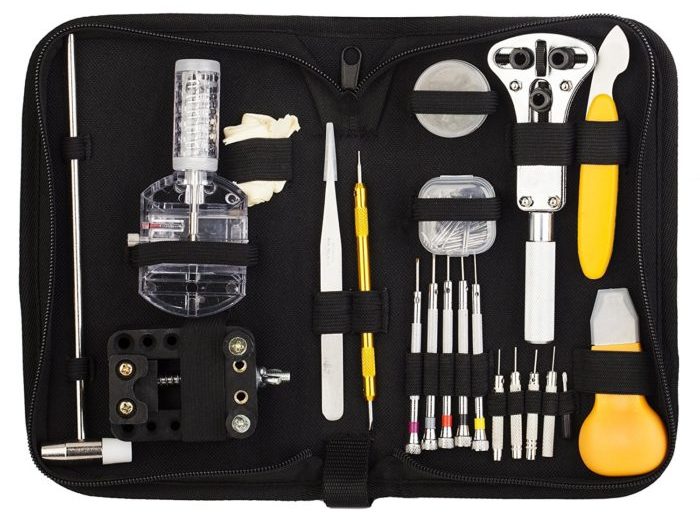 While it's not advisable to work on your prized time piece yourself, you can find a variety of watch repair tools on Amazon. Many of these tools while similar are not of the same quality your local repair shop near you would use. They most likely have higher end tools with much finer precision. With that being said though Amazon is a good place to start for inexpensive watch tools
.
Your best bet for the best results are to search for watch repair near me on google or yelp and drop off your watch to a pro.