Watch Battery Replacement Near Me

When your watch battery dies on your favorite timepiece it can put you out of sorts. Not only does your favorite wrist accessory lose the ability to display the time and date, but you're not exactly fashionable walking around with a broken watch.
While you can often find watch batteries at stores like Walmart, Target, CVS, and Walgreens its actually best to leave watch battery replacement to the pros especially if you have a nice watch. If you are looking for watch battery replacement near me use the map below to find your closest location to replace your watch battery.
Watch Battery Replacement Near Me
If you are searching for watch battery replacement near me often google maps (shown above) and yelp are your two best options. You don't need to search for "watch battery replacement near me", instead search for "watch repair near me". You will get more options and all of these stores will be able to do basic battery replacement for you.
What Stores Near Me Provide Watch Battery Replacement Services?
There are typically three types of local stores that can replace a watch battery for you and chances are you will find one of these near you that can help.
Jewelry Stores: While these store are popular for selling rings, necklaces, and earrings, they also do minor work on men's and women's watches. They often have a specialist on hand who has the tools to take your watch apart and replace the battery.
Watch Repair Shops: These stores specialize in repair watches and battery replacement is an easy task for them on most watches. They will carry a wide array of watch batteries and be very knowledge about almost all brands. IF you have a rare or unique time piece this may be your best option for a battery swap out.
Watch Retail Stores: These stores can usually be found at a mall and they sell a few hundred different brands of watches. You might be surprised, but the workers there normally have tools to open a watch and replace a battery. They don't always advertise the service, but it's worth asking because many will do it and only charge you for the battery and not for labor.
Other Alternatives
Walmart: You might be surprised but some Walmart's can change your battery for you. You go to the jewelry section and ask the person behind the counter if they perform the service. This is a good service if you have a basic/common wrist watch.
Service Centers: You can mail your watch into an authorized service center. To find a service center for your brand of watch  you can search for "your brand" + "watch repair". Example: "Rolex Watch Repair". You can also reference our list of service centers by brand.
How Long Does Battery Replacement Take?
99% of the time battery replacement takes about 10 to 15 minutes so you can wait in the store. Some stores will take your timepiece into the back while others will change the battery right in front of you. Its all a matter on what kind of watch you have and what kind of tool you need.
If you have some obscure brand of watch it may take longer and they also may have to special order a battery. For most replacements though it's a quick and standard service.
How Much Does it Cost?
The cost to replace a watch battery will vary depending on the type of battery and size of battery. When you buy watch batteries at a store they normally come in packs so you end up paying for more than one. When you have a store do your battery replacement for you, you usually purchase one battery, but sometimes get charged for labor.
At many jewelers and watch retails stores they will do battery replacement free of charge if you purchased it from them. This often not only includes the labor for free, but sometimes the battery as well.
Low to mid priced watches usually have batteries that run between $8 and $10. For higher end watches you could spend as much as $50.
What if My Watch is Under Warranty is the Battery Covered?
Batteries are not normally covered under warranty. Warranties for most brands cover mechanical parts. What you should no though is if you have someone replace the battery at a local repair shop you could technically void your warranty if your watch is still covered. Most companies consider anyone doing any type of maintenance on a watch other than an authorized service center grounds for voiding the warranty.
Can You Change a Watch Battery Yourself?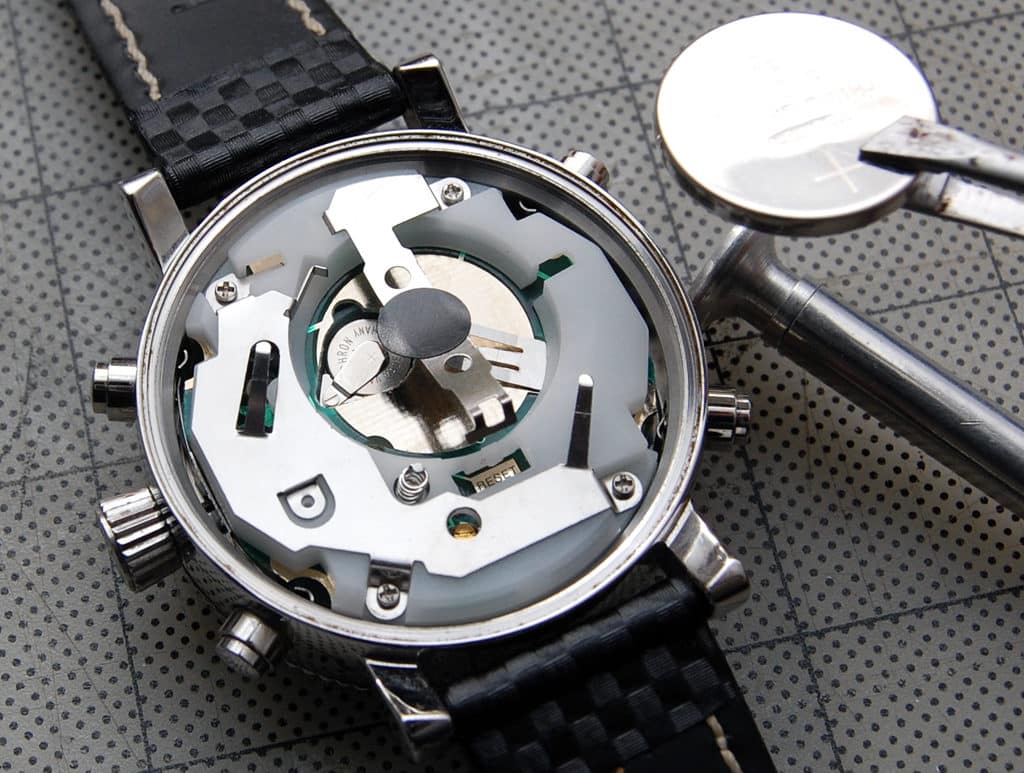 Changing a battery yourself seems like an easy task. If you have an inexpensive watch or you are not concerned about voiding the warranty then give it a try. If you have a watch you love , don't want to void the warranty, or it's pricey my best advice is to let a pro do it.
Pro's have the right that won't scratch your watch when they remove the back casing. In addition they operate in an extremely clean environment so that your watch does not get dust inside of it. Dust inside your watch can damage the mechanics.
If you are going to try changing your watch battery yourself, you can look for special tools on Amazon. These are not professional grade tools, but for many basic watch battery replacements these can get the job done.
You can also reference this article which goes through the basics of watch battery replacement in nice step by step detail.
Here is a video that shows you how to DIY your watch battery just using household tools.
How Do I Know What Type of Battery I Need?
Most watches you can't tell on the outside what kind of battery you need to replace. Your best bet is to google your brand of watch, model number, and type "replacement battery". This should give you a list of results that match your watch. If you don't know the model of your watch it may be a bit more difficult. The good news is that often popular brands like Seiko, Citizen, and Fossil use the same battery type and size for many of their watches.
Popular Watch Batteries at Amazon