Timex Watch Repair Near Me

If you are looking for a Timex watch repair there are two options. You can find a Timex watch repair shop or jewelry store near you or you could send your watch back to Timex. Generally most people prefer using a local shop because of the faster turnaround time and in person customer service.
In the article we will cover where to get your Timex watch repaired near you and provide you the necessary information in the vent you decide to send your watch back to Timex.  We will cover where to find repair shops near you, general costs of Timex repairs, warranty information, and how the service center process works if you mail your watch to them.
Timex Watch Repair Near Me
The Google Map below will display shops local to you that advertise as having the ability to repair Timex watches. If you find a location in close proximity you should call first to ensure they can accommodate the repairs on your watches model.
For additional locations that can service and repair Timex watches you can also search on Google Maps and Yelp. You should search for the term Timex watch Repair near me or Timex repair near me. This will bring up a list of locations within your surrounding area that advertise as being able to fix issues with the Timex brand of watches.
Is My Timex Watch Still Under Warranty?
Timex watches have a 1 year limited warranty and is only applicable from watches purchased for an authorized dealer. It does not cover damages from repair services not performed by Times, damage from accidents, and lens or crystal, strap or band, watch case, attachments or battery.
Pretty much they will cover any thing mechanical that is a result of a manufacturer's defect. For more information on the warranty, click here.
Timex Battery Replacement
If your Timex Watch Battery has reached its end of life its simply a matter of replacing it. While it might seem tempting to replace the battery yourself its better to let a pro do it. While the Google Map above should disclose places that can swap your watch battery out, you can also reference this article here.
If you have a water resistant watch its even more important to have a pro technician perform the battery change. After a new battery is put in, the back casing needs to be properly sealed and run through a water resistance test.
The average Timex battery replacement cost is around $8 to $10.
Timex Watch Crystal Replacement
The crystal is a clear hard material that resides between you and the dial and the hands of the watch. Most Timex watches have acrylic crystals which are inexpensive compared to high end sapphire crystals found in watches like Rolex. Crystal repair is normally not covered under warranty because breaking or cracking it is usually the result of shock from being dropped.
Crystal replacement on a Times usually goes between $30 and $50 depending on what store you took it to. Jewelry stores and watch repair shops should be able to provide crystal replacement services for you.
Replacing the Band
Timex watch bands have several different styles. You can find metal, leather, synthetic rubber, and various other materials. Replacement metal bands often cost more because the material costs more. You ultimately have the choice if you want to find a similar band to your old one or find something new.
Basic watch bands cost around $20.
Mailing in Your Timex Watch to a Service Center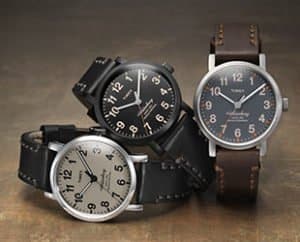 If you have been looking for  Timex watch repair near me and coming up empty, you can always send them back the watch to perform repairs. Here is what you need to know if you send the watch back to them.
If Timex performs work on your watch they can guarantee their work for a set period of time once its complete. If your watch is under warranty they will cover the repair for free. If it is not under warranty they will provide you with an estimate on what it will cost to fix the issue.
In order to start the process of sending your Timex watch in for repair you need to open an online Timex account. This will allow you to track your repair through the process and receive your cost estimate. Normal repair times take about 2 to 4 weeks.  If you decide after your estimate to not proceed with the repair they will return your watch back to you in the condition it was received by them.
Information you will need to provide when sending are your contact info, email address, case back number, serial number, and a description of the problem. If you are looking to make a claim on the warranty you will need the original receipt showing date of purchase, model number, and purchase price.
Here is the place where Timex watches get serviced:
TG SERVICE CENTER
P.O. Box 2740
Little Rock, AR 72203
*Dont forget you need to open an account on their website before sending
Tips Before Sending Your Watch in For Service
Be VERY specific about the issue. If the lens is cracked describe where it is cracked. If the watch is slow to them exactly how slow it is.
Put a description of the watch on the envelope. If your watch should get separated at the factory they can match it back to your envelope and paperwork.
Insure the package for the value of the watch
Pack the watch securely using adequate packing and bubble wrap.
Can you Fix a Timex Watch Yourself?
You can fix a Timex watch yourself, but that's never my recommendation. A lot can go wrong when you open the back casing including mechanical damage and exposing dust into the environment. Its best to let a pro work on your watch.
If you don't care and want to have at it on your own, you should at least consider some better tools other than a large screwdriver and a vice grip. Below are some inexpensive watch repair tools available on Amazon.
Brief History of Timex
Timex is an American watch manufacturing company started in 1854. They were orignally named the Waterbury Clock Company as they were located in Waterbury Connecticut. In 1941 founder Thomas Olsen renamed the company Timex as a tip of the cap to Time magazine and Kleenex. In 1944, the company was unable to pay its outstanding debts and it led to a reformation called the Timex Corporation. In 2008, the company was was renamed into Timex Group USA.