Tag Heuer Watch Repair Near Me

Looking to get a Tag Heuer watch repair store near you?  There are two choices for fixing your watch: Use a watch repair shop or jewelry store that is familiar with Tag Heuer watches or send the watch to one of their authorized service centers. Both options have their pros and cons which will be discussed below, but most people would rather have their watch fixed at a local shop.
In this article we will cover  shops near you that do Tag Heuer watch repairs, some basic costs, and warranty information. We also have the links for their service centers as well as some pro tips for mailing in your watch.
Tag Heuer Watch Repair Near Me
The Google Map below shows local watch repair and jewelry repair shops that perform work and maintenance on Tag Heuer watches. When you find a location near you its best to call ahead to ensure they can service your model of watch.
For alternative suggestions for places that can fix your watch you can try Google Maps or Yelp and type in Tag Heuer watch repair near me. This will bring up a list of local businesses whom advertise as working on Tag Heuer brand watches.
Unauthorized Tag Heuer Watch Repair Shops
When you tag your Tag Heuer watch repair into a local shop they are not authorized by the brand to perform services. They may in fact do great work and be able to service your timepiece perfectly, however they will not guarantee or honor the warranty if you are still covered.  In addition having a local repair shop perform work technically will void your warranty under their terms and conditions of warranty statement.
The only way to make a claim on your watches warranty is to use a service center, which we will discuss more about later.
How Long is The Warranty on My  Tag Heuer?
Tag Heuer has limited 2 year manufacturers defect warranty. They have slightly different verbiage in their legal language for different countries so it may be worth a read if you are looking to make a claim, Here is a link to the US warranty. If you are within the warranty period you will need to provide an original receipt with the date purchased, price of the watch, and model number in order to prove you are covered. Only a Tag Heuer service center will be able to honor the claim.
Tag Heuer Battery Replacement
Many Tag Heuer watches have chronographs which can be big battery drainers, with some people reporting battery life of less than one year. When your watch battery dies its simply a matter if replacing it. This task can easily be done by a jeweler or watch repair shop familiar with the Tag Heuer brand. Changing the battery often seems like an easy task, but its best to let a pro watch technician do the work for you. If you open the back case incorrectly you risk doing mechanical damage to the watch.
If you have a water resistant watch having a pro do the battery swap is a must. They will need to reseal your watch and run a water resistance test on it to ensure it is still water resistant after the battery is  replaced.
Tag Heuer Crystal Replacement
The crystal is a clear hard material that resides between you and the dial and the hands of the watch. There are two different types of crystals acrylic and sapphire. Tag Heuer watches vary is crystal type because they vary in price range. The more high end and luxury your Tag Heuer watch is the more likely it has a sapphire crystal which is more expensive to replace. The good news is that the sapphire is really tough and hard to break even if you dropped it or hit it on something extremely hard.
Crystal replacement cost can vary dependent on the type of crystal being replaced. Acrylics often  range from $30 to $50 and sapphire range from $80 to $150.
Replacing the Band
The most popular Tag Heuer watch bands are thick metal linked bands which can be pricey to replace especially if it uses a high end metal like platinum or titanium. You can essentially change it up though and get any type of band that will fit. Band replacement is matter of preference or trying to find a new band that matches the original.
Mailing in Your Watch to a Customer Service Center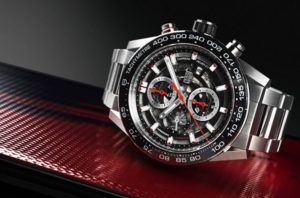 If you've been looking for Tag Heur watch repair near me and aren't finding a qualified location to take your timepiece then the next option is a n authorized service center. Here is what you need to know about mailing your watch to a Tag Heuer service center.
Tag Heuer service centers are authorized and certified to perform repairs and maintenance on their watches. If they perform work for you they can guarantee their work for a set amount of time after it is completed. The time they guarantee it for may vary based on the repair. In addition if your watch is covered under warranty they will not charge you for services rendered.
To have work performed you will need to create an account on their service site. The company does a good job of tracking your watch through the process so you will have an idea of when its received, when your estimate is ready, when your work is performed, and when its being shipped back.
To make a claim on your warranty you will need to provide them with  your contact info, email address, case back number, serial number, and a description of the problem. If it is within the two year warranty they  will perform the work at no charge. If the watch is not under warranty they will provide you an estimate on what it costs to repair.
The good news also is that just because you ask for an estimate you can chose not to have the work done or you can chose to have part of the work done. If you don't want the work done you can have them send back your watch.
For service you can send in your watch directly to Tag Heuer or you can drop it off at one of their authorized locations.
Tips Before Sending Your Watch in For Service
Be very clear and specific when communicating the issue. For example: If the watches is slow don't just say its slow, tell them it is slow by how many seconds.
Put a value on it. Even if you are not sure how much it is worth take a guess an include it with your description.
Insure your package for the estimated value of your watch
Pack the watch securely using adequate packing and bubble wrap.
Can you Fix a Tag Heuer Yourself?
You can, but its something we don't advise. TAG's particularly have complicated internal mechanics. Any non-authorized work on the watch (including by you) will void the warranty. Even simple things like changing the battery can cause damage to the watch. If you have a high end Tag Heuer I would even consider having a pro change your band links.
Now if you are feeling brave and want to tinker yourself,,,have at it. You can get some affordable tools on Amazon that will help you take apart your watch.
History of Tag Heuer
TAG Heuer is based in La Chaux-de-Fonds, Switzerland and has a great history dating all the way back to 1860 when it was founded by Edouard Heuer.  Edouard patented his first chronograph in 1882. Then in 1887 patented an "oscillating pinion" which is still used by mechanical watchmakers today.
In 1911 he patented  the first dashboard chronograph for use in automobiles an aircraft. The chronograph allowed the the driver or pilot to measure time of their trip. it worked like a stop watch. Later in the decade he would build a chronograph wrist piece and another pocket watch version.
In the 30's and 40's they continued to push innovation of the chronograph. These innovations included a stop watch that could run continuously for eight days without being wound and another with a calendar function for day, date, and month. Additionally the chronographs were sold in n stainless steel, 14 karat gold and 18K and 22K gold cases.
In the 1950's they partnered with the retailer Abecrombie & Fitch to make marine time watches. These watches could track the patterns of the moon as well as the tide. Under the Heuer brand they created a similar version of the same watch for race car rally drivers to track to see if the car was on the correct pace to achieve a competitive time over a mile. Other adaptions to the same watch allowed the brand to have the ability to count golf scores and other events.
The 60's and 70's is when the company experienced a boom especially with the notoriety in the automobile industry.  Also famously John Glenn the american astronaut wear a Heuer watch on the moon landing. During that time period they also began to manufacture automatic chronographs to compete with brands like Seiko and Zenith.
In 1985 TAG Heuer officially formed in a business merger. TAG, Techniques d'Avant Garde, and was company that made high tech turbo chargers for F1 cars  partnered with Ron Dennis who aquirred Heuer.
In TAG Heuer formed in 1985 when TAG (Techniques d'Avant Garde), manufacturers of high-tech items such as ceramic turbochargers for Formula One cars, and British businessman Ron Dennis, acquired Heuer. In 2013, TAG Heuer had it's the 50th anniversary of the Carrera model, a racing car inspired chronograph that is big part of their current product line. The Carrera has had 10 iterations since its induction since its introduction in 1963 and has had a new model launched with each decade.