Rolex Watch Repair Near Me

Need a Rolex repair service near you? When it comes to getting a Rolex fixed there are two options: you can find a Rolex watch repair shop near you or you can send your watch in to an authorized service center. While both options will get your desired result, there are differences in when you should chose one over the other.
In this article we will cover Rolex repair near you, the differences between a local repair shop and a service center, some general repair cost information, common Rolex problems, and  Rolex warranty information.
Rolex Watch Repair Near Me
Use the Google Map below to identify Rolex watch repair shops and jewelry stores that work on Rolex watches. When you find the most convenient place to bring your watch its best to call ahead to double check they are familiar with your model.
Other options can be found by using Yelp or Google maps and searching Rolex repair near me or Rolex watch repair near me. This query will bring up locations within your proximity which advertise as being able to perform repairs on Rolex watches. You may also find the Rolex Forum to be a helpful resource.
Unauthorized Rolex Repair Shops
Most local shops are not authorized Rolex service centers. They probably do fantastic work and repair Rolex's regularly, however they have limitations because they are not authorized service centers. The limitations are that they can not guarantee their work upon completion and they can't honor the warranty if you are still under Rolex's coverage. In addition any work they perform on your watch including battery replacement will technically void your warranty.
If you have a repair that you believe is covered under the manufacturer's warranty the only way to have it honored is by having a Rolex service center work on it. We will cover more information on service centers and provide links, but first…
How Long is The Warranty on My Rolex?
First thing you need to be aware of is that in order to claim a warranty on a Rolex it must be purchased from an authorized dealer (AD). Second thing you need to know is that Warranty rights are non transferable. Third when you buy a Rolex you get issued a warranty card which you will need to keep in order to prove your purchase from an AD.
All older Rolex's has limited 2 year manufacturers defect warranty. However watches bought after July 1, 2015 come with a 5 year limited warranty. Watches purchased between July 1, 2013 and June 30, 2015 they provide 1 additional year of warranty, extending the original 2 year to 3 years of the manufacturer's limited warranty. These changes apply to all Oyster and Cellini family watches.
Rolex Battery Replacement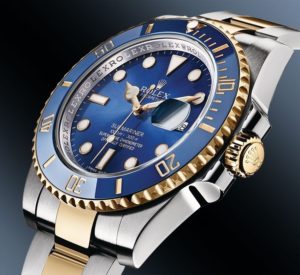 Rolex watches like many other newer watches have battery power and need their batteries replaced when the original has reached its end of life. Replacing your battery should be done by a professional as taking off the back casing can cause damage to the mechanics if done improperly. If you are considering having a local Rolex repair shop near you change your battery just be aware that technically that voids your warranty if they are not an authorized dealer.
Another reason you want a pro Rolex technician to change your battery for you is if your watch is water resistant. After the battery is swapped out they will need to run it through a water resistance test to ensure its been sealed back up correctly.
Rolex Crystal Replacement
The crystal is a clear hard material that resides between you and the dial and the hands of the watch. Most high end Rolex watches have a sapphire crystal which is expensive to replace (more than $150). This is typical for a high end luxury watch like a Rolex. The good news is that sapphire crystals are pretty hard to break, you would need to severly shock the watch to crack it.
Replacing the Band
Rolex's have unique style of bands that can be replaced or swapped out. Because these watches are so high end not just any band will look right on a Rolex. Bands can run the gamut in material with the most expensive being high end metals like titanium and platinum.  The more expensive the face value of the watch then the more it will cost you for a similar replacement band.
Mailing in Your Watch to a Customer Service Center
If you've been looking for Rolex watch repair near me and aren't getting suitable options, then a service center is your next best choice. Here is what you should know before using a Rolex service center.
Rolex service centers are officially authorized to perform repairs and maintenance on Rolex watches. If they do the work on it they will also guarantee their work for two years after the repair is completed. If your watch is already covered under warranty there will be no charge for the service.
To have work performed you will need to create an account on their service site. They will track your watches progress through the process. You can mail your watch to them or drop it off at an authorized dealer.
To make a claim on your warranty you will need your warranty card that you received at purchase. If yu are within the time frame you will be covered providing your issue is a manufacturer's defect. If the watch is not covered under warranty you will receive an estimate for the cost of repairs.
If you get the estimate and you don't want the work done you can chose to have them send back your watch.
To find a Rolex service center near you, visit here.
Tips Before Sending Your Watch in For Service
Be clear and very specific about the issue. If the watch is running too fast, specify how many seconds fast you think it is.
Insure your package for the estimated value of your watch
Pack the watch securely using adequate packing and bubble wrap.
Tip for After Service
After you get your watch back wind it manually before wearing it for the first time.
To do this:
Unscrew the crown to the winding position
Turn it clockwise about 20 times
Screw the crown down properly against the case for water resistance
Can you Fix a Rolex Yourself?
You can, but its something we don't recommend. Working on your watch yourself voids the warranty, but additionally you could do mechanical damage and introduce dust inside of the casing. With such a high end expensive watch its best to let a professional watch repair person work on it for you.
Now if you don't want to head my warning and don't care then you should at least consider using some finer watch repair instruments. Basic watch repair tools are pretty cheap on Amazon.
History of Rolex
Rolex has been an innovator in wrist watches since 1905. Included in their accomplishments are the first waterproof wristwatch , the Oyster, and the Perpetual rotor self-winding mechanism.
The company owes its origin to Hans Wilsdorf (age 24)  who founded a company in London distributing of timepieces. At the time wrist watches were not accurate and not considered fashionable. To increase the accuracy of the timepieces he made them with small precise movements and had them manufactured by a Swiss watchmaking company. Only 5 years later in 1910  Rolex was the first wristwatch in the world awarded with the Swiss Certificate of Chronometric.
In 1926 they developed the very first waterproof wristwatch. To prove t the public it was actually waterproof an english swimmer swam in the English Channel for 10 hours. After which the watch was still in perfect working condition. Later in 1931 they introduced the first self winding mechanism, a feature is at the heart of almost every watch made today.
Throughout the mid-century Rolex watches were worn by many stars, athletes, race car drivers and adventurers. These watches were on board for climbs of Mount Everest and the breaking of land speed records. Rolex was becoming well known for their accuracy and technical details.
After the 1950's Rolex started making more professional style watches.  These watches were intended for pro activities, like deep-sea diving, aviation, mountain climbing and scientific exploration. Rolex became synonymous with achievement. Over the course of the next 40 years Rolex made some of its most famous models such as  The Submariner, The Day Date, The Explorer, The Sea Dweller 400, The PearlMaster, and The YAchtMaster.
Today Rolex watches are still known for many of the same attributes they were founded on accuracy and achievement. Today the brand is still making luxury high end watches. They have a deep association with Formula One racing and are a symbol of success and leadership.
In 2005 they celebrated their 100 year anniversary.