Omega Watch Repair Near Me

Need an Omega watch repair? There are two optiosn for getting your watch fixed: Take it to a local watch repair shop or jeweler, or send it in to an Omega authorized service center. For most people a local repair shop or jeweler is the better option because you can deal with a technician face to face.
In the article below we will discuss your repair options and how to find omega watch repair near you, warranty information, common Omega watch issues, and how to send to an authorized service center if needed.
Omega Watch Repair Near Me
Use the Google Map below to find the most convenient  Omega watch repair shop in your area. These locations advertise as having the ability to repair Omega watches. If you decide on a particular local shop for service it is best to call ahead to make certain they can service your model.
Other options for Omega watch repair can be found by searching Google Maps and Yelp. You will want to search for Omega Watch Repair Near Me. This will produce a list of results within your locale of businesses who can service your timepiece.
Unauthorized Omega Watch Repair Shops
While many of these local repair shops and jewelers can fix your watch, they may not be an authorized dealer or service center. That because important if you are trying to make a claim on your warranty. The local shops can not honor your warranty our provide a guarantee of their work after it is completed. In addition if your watch is under warranty having an unauthorized technician work on it will void it. The only option to use your warranty is to use a service center.
More info to follow about authorized service centers below.
How Long is The Warranty on My OmegaWatch?
Omega watches feature different warranties for different types of internal mechanics.
A standard Omega watch has limited warranty of 2 years
Co-Axial Escapement its a 3 year limited warranty
Co-Axial Escapement and a SI14 Balance Spring its a 4 year warranty
Any Caliber 8500 or 8501 its a 4 year warranty
Its important to know that in order to make a claim on your warranty you will need to provide proof of purchase that shows the date purchased, model number, and price. Only an authorized service center will be able to honor your warranty. You can find more warranty information here.
Omega Watch Battery Replacement
Like any watch eventually the battery will reach its end of life. At that point its simply a matter of replacing it. This task can be easily done by a local jeweler or watch repair shop. Swapping out the batter may seem like something you can do your self, but I would recommend letting a pro do it.
If your Omega watch is water resistant then its even more advisable to let a pro technician perform the battery replacement. After the battery gets changed out it needs to have a water resistance test.
Omega Watch Crystal Replacement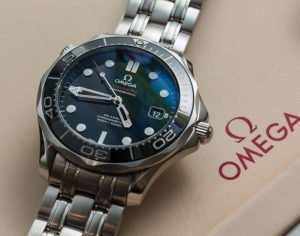 The crystal is a clear hard material that resides between you and the dial and the hands of the watch. Omega watch's vary in crystal type, but the most common is sapphire on their luxury watches. If the crystal happens to be  acrylic it is less expensive to replace, while the sapphire is costly. A sapphire crystal is much harder to break or crack though. If you have a high end Omega Luxury watch it will be costly to replace the crystal.
Should you need to replace your crystal it can cost upwards of $150 depending on the type of crystal in your watch.
Replacing the Band
Replacing the band on your Omega can be fairly straight forward and affordable depending on what you want. The brand makes a variety of watches with different style bands ranging from leather to expensive metals. A leather band replacement can cost as little as $20. If you are looking to get a high end metal band you will end up paying top dollar. Ultimately you can get a similar band to what you had previously or something completely different.
Mailing in Your Omega to a Customer Service Center
If you've been looking for Omega watch repair near me and not finding a place that you want to do business with, then a service center is the next alternative. Here is what you need to know about having your Omega watch repaired by an authorized service center.
Omega service centers can help you with maintenance, routine serving, or completing repairs. When they perform your work they will provide a guarantee of their craftsmanship for a specified period of time after its fixed. In addition if your watch is covered under the warranty they will not charge you for your repair. If your watch is not covered then you will receive an estimate for your cost to repair.
If you intend on making a claim on your warranty you will need to provide proof of purchase showing the purchase date, model number of the watch, and purchase price.
To find an Omega authorized service center you can go here.
Tips Before Sending Your Watch in For Service
If you need to send in your Omega watch repair, here are some tips for sending in your timepiece.
Be specific about the problem with the timepiece. For example if the watch is slow…tell them by how much, if you dropped the watch tell them from how high.
Put a value on it. Even if got it as a gift and don't know the original cost, take a guess and include it in with your package.
Insure the package for the value of the watch
Pack the watch securely using adequate packing and bubble wrap.
Can you Fix an OmegaYourself?
You can fix an Omega watch yourself, but that is not what we advise. Changing the battery may seem like a task you can perform, but you can do some damage. Anytime you open the back case your risk letting dust in the environment and damaging the mechanics.
Now perhaps you are brave and want to try to try and fix your Omega watch yourself, then have it. You can find watch repair tools on Amazon below.
Early History of Omega
Founded in 1848 in Switzerland as La Chaux-de-Fonds by Louis Brandt it was originally a pocket watch company with parts supplied by local shops. Brandt sold his watches all the way from Italy to Scandinavia.
In 1894 his two sons developed an in-house manufacturing system that allowed interchangeable components. When they made timepieces with these methods with they were marketed under the name Omega. In 1903 the company had such success with the Omega watch that they spun off the Omega brand as its own company.