Movado Watch Repair Near Me

Looking to get a Movado watch repair? Essentially you have two options: find someone who does Movado watch repair near you or send the watch to an authorized service center. For the most part most people would prefer to deal with someone in person so they can talk issues and cost with a technician. Also most people don't like the idea of putting their expensive high end luxury Movado watch in the mail.
In this article we will discuss both options. How to find Movado watch repair near you and what you need to do if you should decide that you would like to send your watch to an authorized Movado service center.
Movado Watch Repair Near Me
The Google Map below displays local jewelers and watch repair shops near you that are listed as fixing Movado watches. For any location you choose you should call ahead to ensure they can service your model.
For more watch servicing options you can go to Google Maps or Yelp and search for Movado Watch Repair Near Me. This will bring up a range of locations that are said to repair Movado watches.
Unauthorized Movado Watch Repair Shops
It's important to note that while these businesses like jewelers and watch repair shops shown above may in fact repair Movado watches they are not authorized service centers. This means while they may be able to fix your watch they cannot provide services under warranty. In addition if they work on your watch it will void your warranty and prevent you from having it covered by Movado in the future.
More information below on how to find a Movado service center.
How Long is The Warranty on My Movado Watch?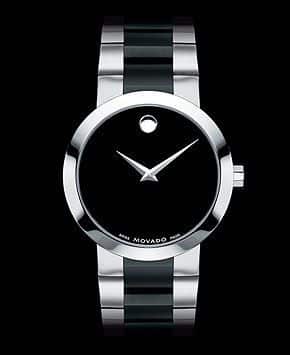 Movado provides a warranty for two years from the date of purchase that your watch will be free from defects that prevent your watch from functioning properly. In order to make claim on your warranty you will need to provide an original receipt showing your date of purchase, the model of the watch, and the price you paid for it. For more information on the companies warranty policy, click here.
Movado Battery Replacement
If your Movado watch battery is dead it's just a matter of getting it replaced. This can easily be done by a jeweler or watch repair shop near you. It may seem like a task you can do yourself, but its best to let a pro replace the battery for you. Anytime you open the casing of your watch you run the risk of causing mechanical damage and inducting dust into the watch which can cause issues.
If you have a water resistant Movado and need battery replacement you must have a pro do it. Once the factory seal is broken it needs to be resealed and tested for water resistance.
Movado Crystal Replacement
The crystal is a clear hard material that resides between you and the dial and the hands of the watch. There are two different types of crystals acrylic and sapphire. Depending on how high end your watch is determines which kind of crystal you have.  Low end watches have acrylic crystals which are less expensive and high end watches have sapphire. The sapphire crystals are really tough and hard to crack. If your Movado watch crystal is cracked or broken after a hard drop the good news is that it is replaceable.
The cost of crystal replacement varies depending on what kind of crystal is being replaced. Acrylics can range from $30 to $50 while sapphire can range from $80 to $150 in our experience.
Replacing the Band
Movado watch bands come in a variety of styles from metal links to animal leather to synthetic rubber. If you are replacing the band you of course can get something similar or try something new. Metal bands are much more expensive and can really jump in price if you are looking at titanium or platinum.
You can find serviceable leather bands for around $20, although probably not the best look if you have a high end luxury watch.
Mailing in Your Movado to a Customer Service Center
If you've been looking for Movado watch repair near me and not finding a suitable place to work on your timepiece than a service center is your next best option. Here is what you need to know before mailing in your Movado watch.
Movado watch service centers are authorized to do repairs on their watch brand. This means they can guarantee their work will last for a specified time period. The time period length is dependent on the type of repair they are implementing. They can also honor your warranty providing you have had any unauthorized companies (like a jewelry store) work on it.
Information you will need to provide when sending are your contact info, email address, case back number, serial number, and a description of the problem. Movado will have you create an online account and they will provide you an estimate to repair if your watch is out of warranty. If it is within the warranty they will not send you an estimate to fix it. If you don't create an online account thy will send you a letter with your estimate to your mailing address.
If you receive an estimate for repair you can decide to proceed with all of the work, some of the work, or have your watch returned in the same condition as it was sent in.
If you should decide that you would like an authorized customer service center, you can find one here. The site is how Movado connects customers with service centers near them. You can reach their customer support here. Having your watch worked on by an authorized dealer will honor your watches warranty for parts and labor as long as It's still covered.
Tips Before Sending Your Watch in For Service
Communicate effectively and be VERY specific about the problem. Describe it in detail. For example if the watch is slow…tell them by how much.
Put a value on it. Even if got it as a gift and don't know the original cost, take a guess and include it in with your package.
Pack the watch securely using adequate packing and bubble wrap.
Can you Fix a Movado Yourself?
You can, but it is not in your best interest. Any non-authorized Movado work will void the warranty. In addition even something as simple as changing the battery can cause harm to the watch. If perhaps you already know you're out of warranty and want to open up the watch yourself, you can get some basic watch repair tools on Amazon.
History of Movado
Movado was founded in 1881 in La Chaux-de-Fonds, Switzerland, by Léopold Achille Isidore Ditesheim. Originally it was called LAI Ditescheim & Freres SA. In 1983 it was purchased by Gedalio Grinberg. Gedalio Grinberg's son, Efraim is the CEO of the company today.
In 2006, Movado celebrated its 125th year of making timepieces.