Fossil Watch Repair Near Me

Looking for Fossil watch repair in your area? When it comes to getting a Fossil watch fixed you have two options: Find a Fossil watch repair shop near you or send your watch to an authorized Fossil service center. It's the preference of most people to stay local and visit a repair shop because you can talk to someone about cost and the issue your watch is having.
Below we will discuss both local repair shops and the ins and outs of mailing your watch to a service center. We will discuss information on specific part replacements, what to do if your watch is still under warranty, and whether or not you should fix the problem yourself.
Find Fossil Watch Repair Near Me
On the Google Map below there are highlighted local repair shops and jewelers whom are listed as providing service on Fossil watches. If you are thinking of utilizing one of these locations its best to call ahead to ensure they can service your model.
For other watch repair shop options you visit Google Maps or try Yelp. Simply search for Fossil Watch Repair Near Me. Doing so should bring you up a listing of places within a reasonable mileage that can accommodate fixing your watch.
Unauthorized Fossil Watch Repair Shops
You should be aware that having a unsanctioned Fossil repair shop work on your watch will void the warranty. While these local businesses listed above probably will perform adequate work, they are not authorized Fossil service centers. This means that they can't honor your warranty if you are still covered and they cannot provide guarantees of their craftsmanship after the work is completed.
More information on authorized Fossil service centers below.
How Long is The Warranty on My Fossil Watch?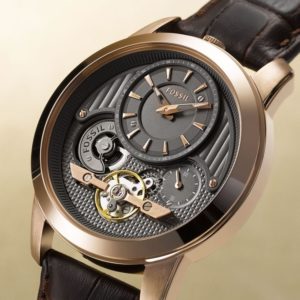 Fossil provides a 1 year limited warranty from the original date of purchase. To have your watch covered under warranty you must use their service center and provide the original receipt showing date of purchase, model of the watch, and price.
Fossil Battery Replacement
When your Fossil watch battery has died it's time to replace it. This service can be performed by a local repair shop or jeweler near you. You should note though that this will void the warranty on the watch if you are still under coverage. Changing the battery on a Fossil watch looks like an easy enough task to perform on your own, but you should let a pro do it. When you open your watch case you run the risk of damaging the internal mechanics and allowing dust into the back of the watch.
If your Fossil watch is water resistant then you should always have a professional change your battery out for you. When a pro replaces the battery on a water resistant watch they run it through a water resistance test after it is resealed.
Fossil Watch Crystal Replacement
The crystal is a clear hard material that resides between you and the dial and the hands of the watch. There are two different types of crystals acrylic and sapphire. Most Fossil watches have acrylic which is an inexpensive fix compared to sapphire. The downside to acrylic is that is much easier to crack or break when you drop it. A normal acrylic crystal replacement runs between $30 and $50. If you have a Fossil watch with a sapphire crystal is can cost between $80 and $150.
Replacing the Band
Fossil watches can accommodate a variety of different bands. Bands can be metal, leather, synthetic rubber, and other materials. Some Fossil watches have high end metal links which will cost more to replace. If you don't need a full band replacement and just need links added or removed a local repair shop or jeweler can do that without effecting your warranty.
Mailing in Your Fossil Watch to a Service Center
If you've been looking for Fossil watch repair near me and not finding a reasonable solution, then mailing them your watch is your best alternative.
What you need to know before you send your Fossil watch for repair:
You can send your Fossil watch back to them for repair in which case they can fix your watch and perform maintenance. The good part about having them perform your work is they can guarantee their work for a certain amount of time after its completed. If your watch is covered by warranty they will fix it at no cost, if not they will provide you an estimate for how much the repair will cost.
When you send in your watch you should provide them with your contact information, email address, case back number, serial number, and a description of the problem. If you are covered under warranty you will need to provide your original receipt, that shows purchase date, watch model number, and price.
You can find warranty information and where to send your Fossil watch here. You will have to pay shipping and handling when you send your watch in for repair.
Tips Before Sending Your Watch in For Service
Be specific about your watch issues. Don't just say its slow or not working. Tell them how slow it is or what may have caused it to stop working….like you dropped it.
Put a value on it and include it with your description. Even if you don't know what the watch cost make an estimate on how much you think it is worth.
Insure the package with the replacement value when you send it
Pack the watch securely using adequate packing and bubble wrap.
Can you DIY Fossil Watch Repair?
Yes it is possible to fix your Fossil watch yourself, but it's something we don't advise. The thing about Fossil watches is that they only have a one year warranty so more than likely of you are having watch issues you are outside of warranty anyway. In that case you could try fixing basic issues yourself or find Fossil watch repair you. If you want to try fixing the problems yourself you could get some basic watch repair tools from Amazon.
Brief History of Fossil
Fossil is a relatively new watch brand as they were founded in 1984 by Tom Kartsotis. The company had is first public offering in 1993. Then is 2001 Fossil acquired Zodiac Watches, a Swiss brand that had been operating since 1882. Fossil was interested in creating a strong swiss presence and establish a retro look of the 1970's. This also led to the brand acquiring Michele Watch, a high end swiss watch manufacturer, in 2004
In 2012 Fossil, Inc. bought Skagen Designs, Ltd. for $236.8 million in cash and shares. After in 2013, Fossil started an upscale and higher end luxury "Fossil Swiss" line of watches which are manufactured in Switzerland. Most recently in November of 2015, the company bought Misfit, a technology company, for $260 million. Fossil plans on incorporating the misfit tech into traditional style Fossil watches.