Cartier Watch Repair Near Me

Are you in need of a Cartier watch repair? There are two things you can do to fix your watch: Find a local jeweler or watch repair shop that can work on a Cartier watch or mail your watch into an authorized  service center. For the most part people would much rather stay local and have their watch fixed, but that can have its drawbacks if you are looking to make a claim on your warranty.
In the article below we will address the following: where to find Cartier watch repair near you, standard issues with Cartier watches, warranty information, and how to send your watch to a service center if needed.
Cartier Watch Repair Near Me
Below the Google Map displays  local jewelry repair and watch repair stores near you that advertise as repairing Cartier watches. If you find a local business for your watch servicing its best to call ahead to ensure they can work on your model of watch.
Alternative options for finding someone to fix or service your Cartier watch can be found on Google Maps or Yelp. Its best to do a search for Cartier watch repair near me. This will give you a list of shops in your local area that are said to work on watches from Cartier.
Unauthorized Cartier Watch Repair Shops
Although local businesses may in fact perform repairs and service on Cartier watches it does not mean they are an authorized dealer or service center. They may do perfect work, but ultimately having them do so will void your warranty if it is still covered. When a local shop performs your work they will not be able to honor your warranty or guarantee their work if they are not an authorized service center.
Below we will cover more detailed information about Cartier service centers.
How Long is The Warranty on My Cartier Watch?
Cartier provides a two year (24 months) limited warranty from the date of purchase. This will cover any mechanical defects that Cartier determines to be their fault. In order to make claim on the warranty you will need to provide proof of purchase date and the individual serial number which provides a record of both origin and authenticity.
For more information on the Cartier warranty, click here.
Cartier Battery Replacement
Every watch battery eventually reaches its end of life. When that occurs it is time to replace it. Ideally a Cartier boutique is your best option, but a local repair shop or jeweler can handle this.It is possible to change your battery on your own, but we never advise doing that. Your Cartier watch is expensive, let a pro do it.
If you happen to have a water resistant watch then its imperative to have a pro change the battery. After they swap the battery out they need to perform a water resistance test for you.
Cartier Crystal Replacement
The crystal is a clear hard material that resides between you and the dial and the hands of the watch. Cartier wtches often have a sapphire crystal. In all honesty it's pretty hard to break/crack a sapphire crystal…if you do though it's expensive to replace. Replacement costs can vary, but you will not find a Cartier crystal replacement for less than $150.
Replacing the Band
Cartier's bracelets or strap replacement are expensive, mostly because they use high end materials. The more high end of a band you have, naturally the more it will cost to replace, providing you want the same or similar band/bracelet. Platinum and titanium bands  will certainly bring your replacement costs up.
Mailing in Your Cartier to a Customer Service Center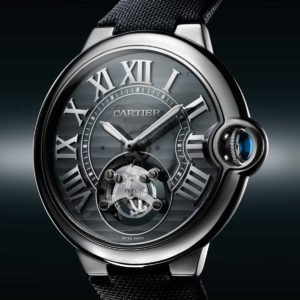 If you've been looking for Cartier watch repair near me and not identifying a suitable business, then an authorized service center is the alternative. Here is what you need to know about having your Cartier watch repaired by a service center.
Cartier uses boutiques and authorized dealers as their service centers. if you don't have one near you, you will have to consider mailing in your timepiece. If you are looking to make a claim on your warranty you must provide your warranty certificate. If your watch is covered under warranty they will perform the work. If not, they will provide you with a cost estimate of the repairs.
To find a Cartier boutique that can service your watch, click here.
Tips Before Sending Your Watch in For Service
If you don't have a  Cartier boutique near you then you may need to mail it to them Here are some best practices for sending in your timepiece for repair.
Be specific about what the issue is with your timepiece. For example if the watch is fast…tell them by how much, if it stopped working tell them exactly what caused it.
Don't forget to include your warranty if you believe it should be covered
Insure the package for the value of the watch
Pack the watch securely using adequate packing and bubble wrap.
Can you Fix a Cartier Yourself?
Technically you can do anything you want…its your watch! We would never advise doing work on it yourself though. Even something as mundane as changing the battery can do harm to the watch. Anytime you open up the casing it is possible to cause mechanical damage and bring dust inside the casing.
Now perhaps you are brave or don't care about my warnings you can atleast grab som better watch repair tools from Amazon.
Early History of Cartier
Cartier was founded in in Paris in 1847 by Louis-François Cartier in 1874 his son Alfred Cartier took over.  It was Alfred's sons Louis, Pierre and Jacques, ultimately responsible for making the watch brand a word-wide brand.
In 1904 Louis Cartier designed a flat wristwatch with a distinctive square bezel. This was Cartier's first men's wristwatch and it was called the "Santos" named after Louis's friend who had brought him the idea. By 1907 they had established branches in London, New York and St. Petersburg.
In the 1920's the company merged forces with Edward Jaeger (of Jaeger-LeCoultre) to produce their movements although they also used other companies as well such as Vacheron Constantin, Audemars Piguet, Movado and LeCoultre.
After the death of Pierre in 1964, Jean-Jacques Cartier (Jacques's son), Claude Cartier (Louis's son), and Marionne Claudelle (Pierre's daughter) sold the businesses to a group of investors.