Breitling Watch Repair Near Me

Need a Breitling watch repair? You have two choices for having your watch fixed: Find a local watch repair shop or jewelry store that can service Breitling or drop your send your watch to a authorized service center. Most people would much rather go to a local shop as opposed to a Breitling boutique or send their watch in, but depending on if you want your service covered under warranty may ultimately determine your choice.
Below we will discuss all of your options: How to find Breitling watch repair near you and what happens if you need to send your timepiece into a service center.
Breitling Watch Repair Near Me
The Google Map below show local jewelry repair and watch repair stores near you that are listed as fixing Breitling watches. If you decide on a location its advisable to call ahead first to make sure they are able to service the model of your watch.
For other options to get your watch fixed you can check Yelp or Google Maps. You can search for Breitling Watch Repair Near Me. This will give you results of local businesses that advertise as servicing and repairing Breitling watches.
Unauthorized Breitling Watch Repair Shops
Just because a shop can fix a Breitling watch does not necessarily mean they are authorized to do so or an authorized dealer. They may in fact do fantastic work, however it is worth noting that unauthorized service on your Breitling watch can result in voiding your warranty. Essentially what this means is that if you are under warranty your service will not be covered, they can't guarantee their work, and Breitling will no longer honor your warranty if they find out your watch was serviced by a non certified technician.
More info to follow about authorized service centers below.
How Long is The Warranty on My Breitling Watch?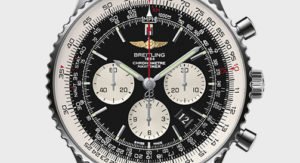 Breitling provides a two year limited warranty from the date of purchase. Any manufacturer's defect will be covered. In addition there is a 5 year movement warranty. Its important to note in order to make a claim on your movement warranty you must have water resistance tests performed every 2 years after the date of purchase by a Breitling service center.
In order to make claim on either warranty you will have to show the electronic warranty card that you received when you purchased your watch to any authorized Breitling retailer or distributor, as well as to any authorized Breitling service center.
Breitling Battery Replacement
If your watch battery has reached its end of life then it is time to replace it. This task can be done easily by a local jeweler or watch repair store. Technically you could do it yourself, but with a luxury Breitling watch I would advise letting a pro do it.
If you have water resistant watch and need your battery changed you definitely need a pro to do it. After the battery is changed the watch needs to have a water resistance test performed.
Breitling Crystal Replacement
The crystal is a clear hard material that resides between you and the dial and the hands of the watch. Breitling's often have a sapphire crystal. The good news is that sapphire crystals are difficult to crack or break, the bad news is that if you do damage it, its expensive to fix. The cost of replacing the crystal may vary depending on how high end your watch is. You are looking at a minimum of $150.
Replacing the Band
Breitling bracelet or strap replacement can be pricey depending on what you are getting. The more high end the metal is then the more your band is going to cost. Platinum and titanium bands can really drive up the replacement band costs. Of course you don't have to get the same band that you had previously.
Mailing in Your Breitling to a Customer Service Center
If you've been looking for Breitling watch repair near me and not finding a location you like, then a service center may be your next best option. Here is what you need to know about having your Breitling watch repaired by a service center.
Breitling service centers and authorized dealers can both help you with service or repair. They refer to servicing as "Intervention". When they work on your watch they can guarantee their work for a set amount of time after it is completed. They can also honor your warranty if your timepiece is still covered under their policy. If your watch is no longer covered under the warranty then they will provide you an estimate on what it will cost to repair.
In order to make a claim on your warranty you will need to provide the electronic warranty card that you received when you purchased your Breitling watch for an authorized dealer.
If your watch is covered then you will not recieve a cost estimate. If it is not covered you will get an estimate for repair . At that point you can decide to proceed in full, have some of the work performed, or have your watch returned back to you in same condition they received it.
To find an authorized service center you can go here.
Tips Before Sending Your Watch in For Service
If you are not dropping your watch off at a Breitling boutique then you may need to mail it. Here are some best practices for sending in your timepiece for repair.
Be VERY specific about the problem description. Describe it deep detail. For example if the watch is fast…tell them by how much, if it stopped working tell them exactly what caused it.
Put a value on it. Even if got it as a gift and don't know the original cost, take a guess and include it in with your package.
Insure the package for the value of the watch
Pack the watch securely using adequate packing and bubble wrap.
Can you Fix a Breitling Yourself?
If you are brave you can, but I would never suggest it. Any non-authorized repair will void the warranty. Even something as basic as changing the battery should be completed by a pro technician. When you take apart the watch casing you run the risk of doing mechanical damage and introducing dust inside.
Now if you don't want to head my warning you should at least consider getting some basic watch repair tools at Amazon.
History of Breitling
Breitling SA was founded by Léon Breitling in 1884. Their watches are manufactured in Switzerland and feature all Swiss parts and components. The company is known for making two movement types: the calibre B01 and calibre B04, a B01 with an added GMT module.
in 2009  Breitling developed the mechanical chronograph movement called the B01. This was the first watch completely manufactured by the company. In 2017 the company announced they had been acquired by CVC Capital Partners for over $870 million.