Antique Vintage Watch Repair and Restoration Near Me

So you have bought or inherited an old watch and you would like either fix it or restore it. Maybe it's a family air loom or perhaps a timepiece you want to get back into working condition so you can sell it.
Finding an antique watch repair or restoration shop is difficult because watch repair on vintage timepieces requires a special skill set. You can't just visit your local jeweler or watch repair shop to fix your prized possession. Those businesses can fix watches of today, but can't often can't work on antique watches because they cannot fabricate the parts that no longer exist.
Antique Watch Repair Near Me  – Get Your Vintage Watch Restored
Use the map below to find locations in your area that can perform antique watch repair or antique watch restoration.
For alternative ideas on where you can get your vintage watch repaired near you, try searching on Google Maps or Yelp for the following terms: Antique Watch Repair Near Me, Antique Watch Restoration Near Me, Vintage Watch Repair Near Me, Watch Restoration Near Me. Searching for these phrases should yield you a set of satisfactory results for finding an antique watch repair shop withing your proximity.
How to Select The Right Antique Watch Repair Shop Near You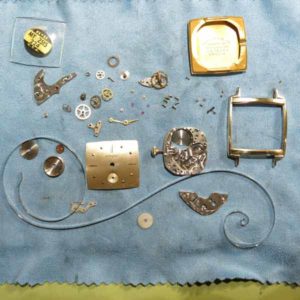 Use the list above on the Google Map and start calling around. Don't just call one shop, call several. It's ideal to find a repair or restoration shop with particular knowledge or experience with your brand. You should ask for proof of their work like sending you pictures of completed work via email.
It's always best to go to someone who has knowledge of a specific brand, but they need to be able to prove that to you. There are lots of independents who are capable, but not approved. Additionally uu can ask if they hold any certifications. Of course being certified doesn't necessarily translate to a successful antique watch repair, but it doesn't hurt to ask.
Ask questions to see if they understand what watch collectors look for. For example they may tell you they can make your watch look pristine, when in fact most collectors will pay less for it. A good restoration shop should urge you to be conservative rather than a full restoration. Of course they will make more money on full restoration, but a good shop should let you know all the options and what the risks of a full restoration could mean for value.
There are No Antique Watch Repair Shops Near Me, Now What?
If you live in a rural area, you may not have as many choices to have your vintage timepiece repaired or restored. Your best bet would be to search your nearest city for antique watch repair. You can contact national repair shops. There is a good chance you can find a quality company that will allow you to mail them the watch. If you do mail your vintage watch to them, you must insure your package for the full value of your watch.
What You Should Know Before You Restore an Antique Watch
While it may seem tempting to have a massive amount of work done on your vintage watch, you may end up decreasing it in value. When it comes to antique watch restoration often less is more. Many collectors would prefer that a watch has little done to it as possible.
Getting it Work Doesn't Always Translate to Higher Value
You may even be surprised to find out that a potential antique watch buyer may pay more for a watch that doesn't work than one that does. Make sure youonsider that when you are planning your repair or restoration.
You May Want to Ask Them Not to Polish It
In addition to fixing the watch, some collectors also like vintage watches to show normal wear and tear. That is something you should consider before dropping off your watch to an antique repair shop. If you don't say anything they will most likely polish the watch case, which could fetch you a lower price if you intended on selling the timepiece.
Ask Them Not to use Parts From Other Watches
Some antique repair shops will take parts from similar watches, maybe not even from the same time period. This is a major no, no and will devalue your timepiece. It is critically important for your vintage watch's value that it remains original.
If Other Parts Are Needed, Do Not Change the Bezel Insert
Anything related to the bezel must stay in the watch. Hands, dial, bracelet, whatever touches the bezel has to stay. Its important that the look and feel of the watch remain original. If you are dead set on getting the watch to work then perhaps alternative parts are needed in side. That's fine if you must, but do not lose the original aesthetics of the exterior if you want to keep its value.
Vintage Watch Repair and Restoration
Before selecting a vintage watch repair or restoration business its important to understand that to most collectors less is more. A pristine looking Rolex from the 1900's working perfectly, that doesn't have all its original parts may not fetch as much as one that looks like its been through a war (and maybe it has) and doesn't work.